Archipro Reflections on the current A&D candidate market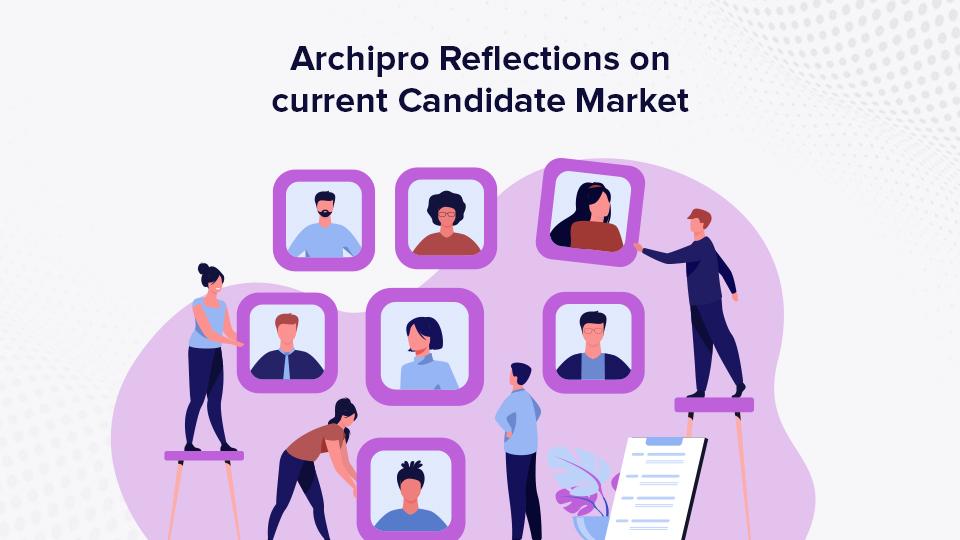 In today's business environment Archipro clients are telling us that "while candidates used to be honored to be offered a position, now the tables have turned, and it is we who are to be honored if an individual chooses to join our practice."
There is no question that the market for highly qualified professionals is a tight one and what individuals need to make a job change has shifted. The benefits of joining your firm and what that means to the prospective new-hire must be crystal clear to capture a qualified candidate.
With the uncertainty the pandemic has engendered, candidates need assurance that accepting your offer is an excellent move for their future as well as that of their loved ones.
Now is the time in this highly competitive climate to up your game when it comes to selling the benefits of working in your firm. This begins with every interview whether on the phone, online, or in person. The candidate needs to be treated with the same respect and consideration given a client. Keeping appointments, being on time, being prepared, courteous, and respectful, and following-up are winning practices.
Offering to cover travel and accommodation expenses for out-of-town candidates and their partners, when requesting an in-office interview has become common practice. In addition, many firms are now preparing marketing packages tailored to particular candidates and their needs. Along with pertinent information about the firm and the position, these packages may include key information about your community with links to resources such as major employers, schools, recreational, sports, and cultural venues.
Today quality of life is the number one concern for candidates. Your firm's greatest draw is the character of your workplace and the nature of your culture, people, and projects. Younger applicants want more experience on projects, while more senior candidates remain focused on flexibility. Before joining a new firm, individuals strive to understand clearly your firm's values and processes, the projects and personnel with whom they will be working, the role they will play, what is expected of them, how their work will be evaluated, and under what conditions they will be working.
What working hours are the expected norm with your firm, 40, 60, more or less?
How much travel is involved, if any? How are long hours of travel, working late, or working on weekends to meet deadlines compensated?
What flexibility does your firm offer? Is remote work an option? Does the firm follow a hybrid approach with some hours remote and certain hours expected in the office? Is the entire team expected to work together in the office? Are these decisions left up to the individual?
What protocols are in place for the health and safety of all employees?
Some companies offer unlimited paid time off while others have floating holidays. What is your firm's policy when it comes to vacation, holidays, and personal time off?
What does your firm do that keeps employees happy and satisfied? What makes your practice unique compared to others?
Employees and candidates are increasingly expecting practices to have a flexible working arrangements policy. This can include remote work, a flexible start and finish time, no need for a fixed lunch break, and a work from home rotation.
When presenting their firm at the interview stage, we are encouraging all our clients to put their effort into stressing the unique benefits of their firm in relation to what the candidate wants. Be it how you describe your company culture, the scope for workplace flexibility, project opportunities or career progression for an employee. What makes you stand out as an employer of choice? How does what you are offering align with the candidate's desire for a new opportunity?
When Archipro candidates refuse to continue with the interviewing process, here is what they are saying:
"It seemed as if no one even knew we had a scheduled interview. I sat alone waiting for twenty minutes before being escorted to a conference room where I sat alone for another ten minutes before meeting with anyone from the firm. When we finally did meet, the interview was interrupted several times. "
"Our phone interviews and zoom meetings were repeatedly rescheduled without explanation. I have no confidence in this firm nor in what I have been told. I do not want to pursue this position."
"Everything was looking up until I got to the office for the in person interview. I met with several members of the staff, but it seemed as if we were just having meet and greet conversations. I met a lot of nice people, but didn't come away with a clear understanding of what the firm had to offer me and why I should make the leap to join them."
"They didn't want to pay for any of my travel expenses. Finally, they agreed to cover travel and accommodation for me, but not my partner, I don't want to work for a firm when I need to fight to get expenses covered nor one that has no concern for my partner and the impact and expense a move would have upon us. Send me to a firm that will cover travel expenses for both of us as well as moving expenses."
Candidates are paying close attention to the work space and its amenities, how they are treated during the interviewing process, the interactions of your staff, and the nature of your communications as well as your firm's policies. Companies are now offering greater benefits on-site and in their policies to support both staff retention and attraction. The impressions of your physical facility, staff interactions, and communications a candidate takes away from an interview can be a deal-maker or a deal-breaker.