Tips for finding your dream Design Job!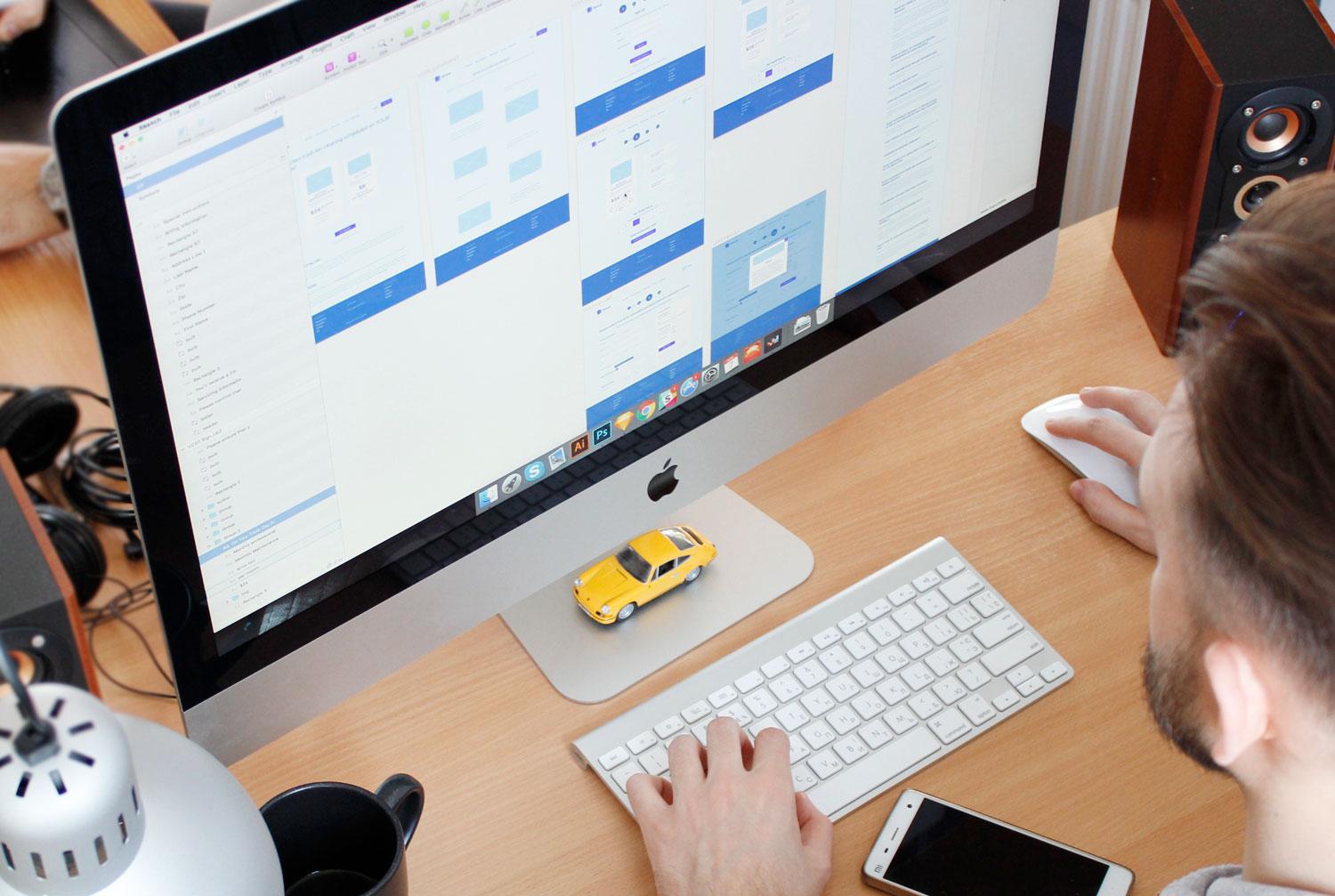 Tips for finding your dream Design Job!
Seven steps:
1. Self reflection know what your likes and dislikes are and what you are looking for location, role, environment, size.
2. Do your home work research the firm who, what, where, when. What project types do they specialize in..
3. Design education is important we do not place anyone without one and it is always a requirement.
4. Membership in your professional organization is highly beneficial to your career.
5. Good presentation of everything in a design career. It is important also consider the look of your social media as well as your portfolio.
6. People Skills the ability to listen and communicate your ideas clearly and thoughtfully.
7. Don't be afraid to make a move when the opportunity you have defined comes.
You've followed your favorite designers on Instagram, have shadowed them on the lecture circuit, and have been itching to shoot off your résumé. But where to start?
An impressive CV is one thing, but if you're looking to land your dream interior design job, you'll need to prove that you have more to bring to the table. "We're attracted to dreamers," says Los Angeles designer Richard Petit of AD100 firm The Archers.
Petit himself followed what he describes as a "circuitous" career path ranging from set design to fashion, proving that there's not a one-size-fits-all model for achieving design success. There are, however, some secrets to finding that perfect job. We spoke with design professionals, hiring managers, and academic advisors about how to simplify the hunt and make your experience work for you. Here's what they had to say.
Dig deep
Whether you are new to the design business or looking to make a mid-career change, Sasha-Gay Scott, a career adviser at the New School, recommends "doing some self-reflection." Ask yourself what first drew you to design, what you love about being a designer, and what the most dreaded or challenging aspect of the job is for you. "By reflecting on your journey, you should be able to see a theme that can help you decide your next move," says Scott, whether that's teaching, event management, or consulting. This exercise can also help you understand whether you'd fit best in a boutique firm or a global firm with offices in a variety of cities.
"By reflecting on your journey, you should be able to see a theme that can help you decide your next move."
Do your homework
Once you've gotten your foot in the door, you'd better know who's interviewing you. "Connect with them on LinkedIn and see if you can learn something about them," says Stephanie Long, managing director of IA Interior Architects' Austin office. It's also essential to research the firm and the kind of work its principals specialize in. "I have interviewed candidates who want to do multifamily housing when IA specializes in workplace and retail," says Reetika Vijay, managing director of the firm's Boston office. "Why are you here and why are you wasting my time? When a candidate comes in knowing details about IA and why they are suited for the firm, I have to admit I get chills."
Consider design school
Though the design industry is becoming increasingly diversified (imagine finding a job as a social media coordinator 25 years ago!) many creative professionals still see the benefits in earning a traditional degree in interior design or architecture, either at the start of your career or later, after dabbling in other professions. "I do feel a 'proper' design education is important," says AD100 designer Russell Groves, who studied architecture at RISD and began his career at established firms like KPF and Peter Marino Architect before launching the New York–based design firm Groves & Co. "There is a discipline and rigor—aside from a history of design—that is hard to gain otherwise."
But many design professionals acknowledge the ever-expanding limits of the industry and welcome those with less traditional backgrounds. "The degree is still important; I don't want to diminish that," says Vijay. "I do, however, think the traditional confines of design have opened up beyond just architects and interior designers. Product design, graphic design, business, and technologist degrees are all of value to our industry."
ADVERTISEMENT
Build your network
Still, a design degree alone won't get you the job. Hiring managers, academic advisors, and designers argue that your best bet for success involves making the most of your time in a post-secondary program through internships and co-ops, but also membership in a professional organization like the American Society of Interior Designers (ASID) or the International Interior Design Association (IIDA). "Membership is not a requirement, but I believe it's highly beneficial to career development and indicates a level of dedication," says Long. "Membership can help develop professional leadership skills outside of the office, especially when one takes the initiative to join or lead a committee."
In addition to lectures, classes, and exhibitions, organizations like the IIDA offer invaluable opportunities for mentorship, in which students can shadow professionals to gain a broader knowledge base and make informed decisions about the kind of careers they want to pursue. But you can also think of a professional organization as the original social networking tool: "Membership in an association can give designers the advantage of professional connections to not only potential hiring managers but also peers who will oftentimes result in longtime, valued relationships," says John Czarnecki, deputy director and senior vice president at IIDA. "One can broaden their network, and thus broaden their potential opportunities, by connecting with peers."
"More than half of all opportunities are found through networking."
Scott, the career adviser at the New School, emphasizes the importance of making connections early on. "The 'Hidden Job Market' is a term that commonly refers to job and internship opportunities that are not posted or advertised. In fact, more than half of all opportunities are found through networking," she says.
Put your best foot forward
It's no surprise that creativity tops the list of most attractive qualities when it comes to prospective design hires. The best way to showcase that is with a portfolio of your work, but social media is also a significant medium for conveying your unique eye. "I often search for a candidate's profiles on Facebook and Instagram for additional perspective—a professional presence on all channels is a definite plus," says Long.
Adds Petit, of The Archers, "Because so much of the work generated in the professional sphere can be vanilla, we find that applicants who include personal projects, student work, competition entries—anything that showcases their imaginations or unique skills—are much more likely to pique our curiosity."
Embrace learning more
If you're having trouble making those connections with hiring managers, don't despair. "I would recommend requesting an informational interview with recruiters to understand what's missing from your presentation," says Long. "You may or may not get a response from everyone, but the initiative will get noticed and, eventually, you'll get the honest feedback that is needed to course-correct."
But don't just sit back and wait for an answer. "In the meantime, talk to A&D sales reps about opportunities in the market, develop your Revit skills on a contract basis, or work as an intern at a general contracting firm," Long advises. In other words, no experience is bad experience. Marlene Liriano, managing director of IA's Miami office, adds that jobs in related businesses—say at a showroom or a lighting firm—can pay off down the road.
Mind your people skills
Creativity aside, the single most important skill the design professionals we surveyed look for is the ability to communicate ideas clearly. "Everything we do is about communication and connection with people," says Vijay. "If recruits show the ability to listen and share ideas in a thoughtful, poignant manner, I am sold."
ADVERTISEMENT
"If recruits show the ability to listen and share ideas in a thoughtful, poignant manner, I am sold."
And it goes without saying that in addition to being proficient in AutoCAD, Revit, Rhino, SketchUp, and any number of other skills, you'll also be expected to brush up on your manners. "I'm Southern and old-school, so the way my employees speak on the phone to colleagues is hugely important," says New York designer Jennifer Vaughn Miller. "This job can be stressful, so demeanor goes a long way with me."
Petit recalls a particularly standout hire: "Her email included the sentence, 'My current employer told me in a recent review that I have the best attitude of anyone she's hired in her 22-year career.' In my mind she was hired on the spot."
Just do it
In the end, fortune favors the bold. "Too frequently, I see fledgling designers who are paralyzed to make a move," says Vijay. "They want what they consider to be their ideal career and have high expectations, which freeze them from making any movement forward. But everyone has to start somewhere. Genius doesn't come on day one. Allow it to percolate through your career experiences."