Creating a More Inclusive and Diverse Architecture Industry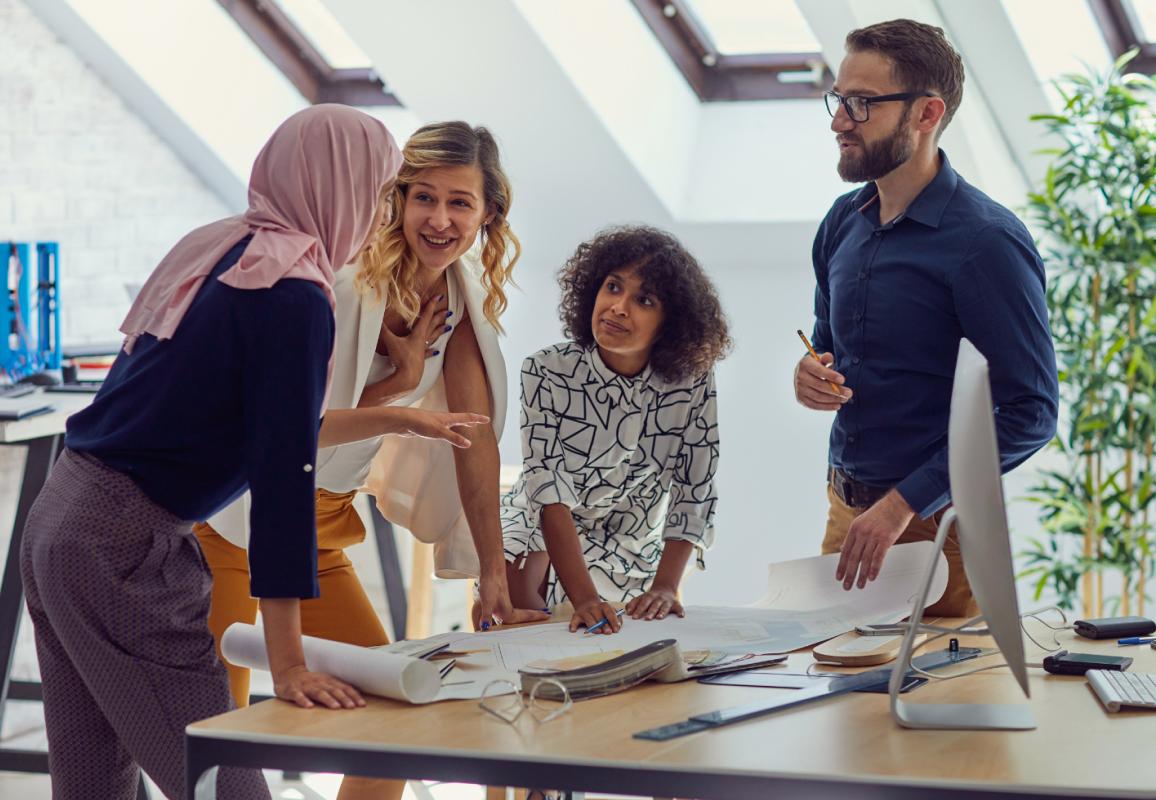 The field of architecture has become more diverse in recent years as architecture firms actively work to recruit candidates from a variety of backgrounds into their organizations. While the number of opportunities for people from underrepresented groups has increased, however, there is still a lot of work to be done to achieve true equity in the profession as a whole.
One of the main challenges firms face in their diversity efforts is that there are many steps in the journey to become an architect. Individuals from minority communities often face barriers that impede their access to education resources, internship programs, and other skill development and networking that architects need to grow their careers. Let's take a closer look at the current state of diversity in the architecture industry, the common issues that firms face when enacting diversity initiatives, and some ways companies can approach these challenges to build a truly inclusive culture.
The current state of diversity in the architecture industry
According to research from the National Organization of Minority Architects, roughly 22% of architects in the United States identified as a minority based on race or ethnicity in 2020. This is a significant increase over previous years, but while it is a positive change, it is not evenly distributed. Black architects, for example, make up only about 2% of industry professionals, a figure that has remained relatively static for over a decade.
A similar trend can be seen in the area of gender diversity: there has been progress, but there are still ample areas for improvement. Recent data indicates that only 23.3% of architects identify as women.
When it comes to members of the LGBT community, only 3% of respondents to the 2022 ARB Equality and Diversity Survey openly identified as lesbian, gay, or transgender, though the true number is likely higher–in an Architects' Journal survey of LGBT architects, only 73% said they had come out at work, a decrease from previous years. This alone raises some red flags about the inclusivity of the average firm workplace, especially considering only 16% of respondents to that survey said they felt comfortable being open about their sexuality or gender identity when visiting construction sites.
The benefits of promoting diversity and inclusion in architecture
More inclusive designs.
Architects aim to create spaces that are comfortable and functional as well as visually appealing. A more diverse team can better create inclusive spaces that are accessible and welcoming to all, including those who are disabled or come from marginalized communities. The result is overall more functional designs and more satisfied clients.
Better organizational decision-making.
Each individual on a team brings their own unique perspective to conversations and decisions. The more different the individuals, the more varied those contributions will be. That, in turn, means a lower chance of blind spots in the decision-making process. Firms are more likely to spot and seize opportunities and identify potential risks when there are diverse voices involved in decisions.
Enhanced creativity.
Design is an inherently creative process. Including more voices and unique ideas into a project results in more innovation and creativity in the end designs. This positions firms that have built diverse teams to create fresh, modern projects for their clients and stand out from their competition.
Challenges to creating a more inclusive architecture industry
As we alluded to in the introduction, the first major hurdle to creating a more diverse environment in the architecture industry starts well before the recruitment process. The education and licensure of architects is a lengthy and expensive process. Students typically spend at least 5 years in architecture programs before they can design and work on projects for clients. The degree alone isn't enough to start a career, either. Most firms look for candidates with professional experience, often gained through internships, when they have a position to fill in their practice.
Compounding this challenge is the structure of the content in architecture schools. Where other specialized industries like law and medicine typically ask students to choose their focus at the graduate level, architects begin their programming in the first year of undergraduate studies. Because of this, the continued growth of diversity in the architecture industry needs to start with instilling an interest in design at the high school level, in addition to expanding access to scholarships and financial aid services.
The unequal access to architecture education has another unfortunate impact on the industry's diversity: it encourages a confirmation bias in firm leadership and hiring teams. If fewer people from a given population ever try to become architects or designers, leaders in these spaces may conclude the diverse candidates they're seeking simply don't exist. Addressing this issue will require a commitment from architecture educators and a proactive investment in advocacy to younger students from a range of backgrounds, in addition to recognition of the importance of diversity on the part of hiring leaders.
Strategies to promote DE&I in architecture
There are several organizations actively working to expand access to architecture education to individuals from every background. The NOMA Foundation Fellowship program is one example, pairing students from diverse backgrounds with firms for 12-week paid internships, giving them hands-on experience with the design process that can help build toward career success. The American Institute of Architects (AIA) followed suit in 2021 by establishing a Diversity Scholarship, and the Association of Collegiate Schools of Architecture (ACSA) has taken similar steps to increase engagement in the industry from underrepresented communities.
While it may take some time for these initiatives to make a noticeable impact, there are still steps that design firms can take today to promote a more inclusive culture and welcome more diverse perspectives, such as:
Commit to hiring interns from underrepresented groups.
Design firm ZFG actively recruited summer interns from HBCUs as part of their work on the AIA Large Firm Roundtable task force on diversity, which aims to double the number of registered black architects by 2030. Targeting the demographics you want to add to your firm can help to expand your presence and connect with architects in that community.
Engage in active outreach to high school students from minority communities.
Connecting with younger students introduces them to the idea of architecture as a career before they need to choose their major and begin their studies. You can seek out job fairs or career days your firm can participate in, or start your own shadowing program to give teenagers experience with job sites, model making, and the experience of being part of an architecture firm.
Work with a diversity expert to evaluate your processes for implicit bias.
Architecture has historically been a very homogeneous field. This may mean that structural biases have been inadvertently built into firm processes and policies, and these aren't always easy to identify. An expert in diversity and bias training can help you to identify and correct these issues.
Review your talent pipeline to identify where you're losing diverse applicants.
For some firms, the issue is how to attract diverse talent to your opportunities. Others may get diverse applicants but lose them from the pipeline during the interview process. Analyzing the diversity at each stage of your hiring process is the best way to identify where you need to make improvements to build a more diverse team.
Ensure equity and transparency in pay and promotion decisions.
Having a diverse entry-level staff is a good start, but true equity comes when that diversity is distributed across the organization, including in leadership. If architects don't think they have an opportunity for advancement in your firm, they won't stay around for long. Improving how pay raise and promotion decisions are made, and keeping those transparent for your staff, can help firms to maintain a diverse team in the long-term.
Building a more diverse future for architecture
The lack of diversity in the architecture industry is a long-running problem, and one that won't be solved overnight. While there have been noteworthy improvements in recent years, the field is still a long way from achieving true equity. Design firms can support a more inclusive architecture world through advocacy and a strong commitment to expanding access to their opportunities. By doing so, they can improve their decision-making and how they relate to clients from all backgrounds, at the same time they help to ensure that everyone feels welcome in the architecture profession.