The Importance of Continuing Education for Building an Architecture or Design Career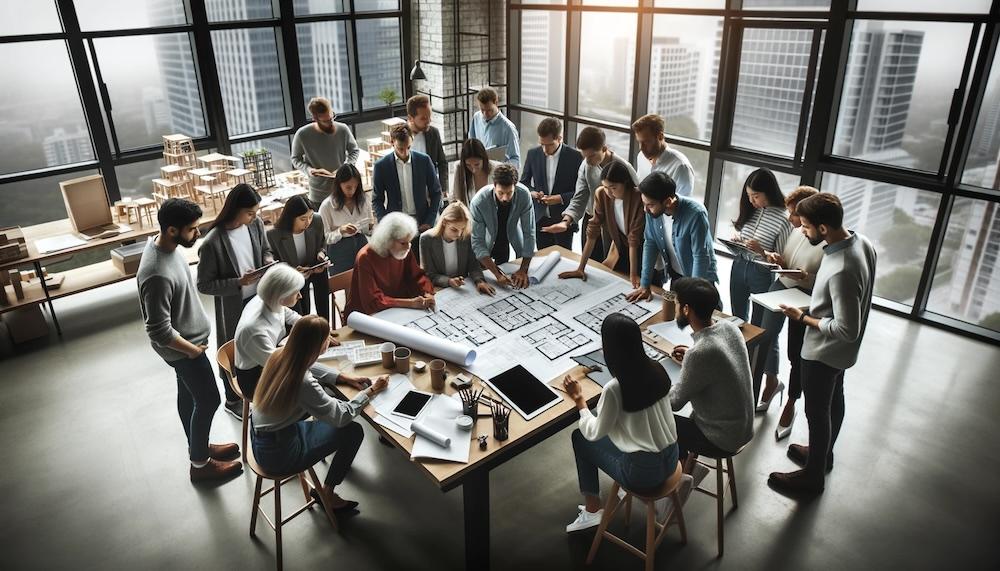 Between completion of a degree program and practical experience in an internship, it can take 6-8 years to be fully-trained as an architect, landscape architect, or interior designer. Just because you've finished your degree, though, that doesn't mean that the learning is over. Continuing education is a key way that architects and designers continue to grow and hone their skills after licensing. In this article, we'll take a closer look at the types of ongoing learning available in this industry and why it can be so valuable in building a career.
Types of continuing education
While architecture, landscape architecture, and interior design are separate fields, these professionals all need to study a similar core set of topics and principles. Many continuing education providers offer courses, workshops, and seminars that can be valuable for people employed across these sectors, as well as related professionals like urban planners and construction specialists.
The majority of continuing education in this industry is offered by professional organizations like the American Institute of Architects, American Society of Landscape Architects, American Society of Interior Designers, and similar groups. While the specific type of continuing education someone needs to take will depend on their specialty and the jurisdiction where they work, there are common formats and types of learning available across organizations.
A good portion of the continuing education for designers and architects today is available online. This can take the form of self-guided study materials, pre-recorded lectures, or live courses and webinars, and range in length from full semester-long courses taught by an instructor to nano learning programs, which give a short 15-30 minute overview of a specific subject or learning objective.
In-person learning options are available, as well. The highest concentration of these programs are usually found at the conferences and annual events hosted by professional organizations, like the AIA Conference on Architecture, the ASID Gather conference, or the ASLA Conference on Landscape Architecture. Colleges and universities with architecture and design programs are another excellent source of in-person learning, and can include lectures and short-term workshops as well as full courses.
Continuing education for architects
Before an architect can start to work on professional projects, they need to obtain their Architecture License. Licenses are obtained at the state level and the requirements can vary between jurisdictions. You can find the specific requirements for your area using the NCARB Licensing Requirements Tool.
Most states require applicants to first earn an architecture degree from an NAAB-accredited program, though some will accept equivalent professional experience in lieu of a degree. Architects also need to pass the Architect Registration Examination (ARE) and may have additional requirements depending on where they live.
Once professionals have this license, it must be renewed every 1-2 years. For most states, license renewal requires earning a certain number of continuing education hours. The NCARB lists the full Continuing Education Guidelines on their website. In general, it requires earning 12 continuing education hours in health, safety, and welfare topics (HSW), which span subtopics including:
Practice management – Areas related to management of architecture practices and running a business in the architecture industry
Project management – Areas related to managing and executing architectural projects
Programming & analysis – Areas related to evaluation of project constraints and requirements, such as regulations and codes related to environmental impact and land use
Project planning & design – Areas related to the preliminary design of buildings and preparation of sites, including urban planning, site safety measures, sustainability, accessibility, or budget development
Project development & documentation – Areas related to material selection and assembly, as well as the integration of building systems
Construction & evaluation – Areas related to the administration of construction contracts and evaluation post-occupancy
Continuing education is also required to maintain membership in the American Institute of Architects (AIA). Members must complete 18 learning units each year, with at least 12 of those in HSW topics. These learning units can also typically be used to fulfill license renewal education requirements, and are free for members.
The format of these learning programs can vary, and include in-person classes and programs, live online programs, or self-guided online or print materials. Regardless of format, a continuing education hour (CEH) credit is defined as 50-60 minutes of continuous instruction or engaging in structured educational activities.
Continuing education for landscape architects
The process of obtaining and maintaining a license is similar for landscape architects as it is for other architecture professionals. Licensure laws vary state-to-state. You can use the American Society of Landscape Architects (ASLA) map of state requirements to find out more.
Thirty states require continuing education to maintain this license. The standards for LA continuing education are set by the Landscape Architecture Continuing Education System, and typically averages out to 12 hours each year, though often reported on a 2- or 3-year cycle, depending on the state.
Like with other architects, a certain percentage of continuing education credits need to be in the area of public health, safety, and welfare (HSW). This can include courses related to subjects like:
Building codes
Laws, acts, and regulations governing the practice of landscape architecture
Construction administration and contracts
Design of environmental systems
Erosion control methods
Horticulture and vegetative management
Land planning and land use analysis
Landscape preservation, restoration, and adaptive reuse
Natural hazards and their impact on site design
Pedestrian and vehicle circulation
Site design and engineering
Site safety and security
Storm water management and drainage
Structural systems considerations
Surveying methods
Continuing education for interior designers
Unlike architecture and landscape architecture, there is no licensing requirement in most states for interior designers. However, registration is required to work unsupervised in commercial spaces in five jurisdictions: Florida, Louisiana, Nevada, Puerto Rico, and Washington, DC.
Designers in many other states can elect to become a certified or registered designer by taking the National Council for Interior Design Qualification Exam (NCIDQ). Once obtained, this certificate must be renewed annually, which includes meeting the continuing education requirements set by their state. For those not registered with a state or who live in an unregulated area, the CEU requirement is 5 hours of health, safety, and welfare content every year.
In addition, professional membership organizations for interior design may have continuing education requirements for members. The American Society of Interior Designers (ASID) requires members to earn 10 CEUS every 2 years. This can include courses and presentations that are either:
The Interior Design Society (IDS) also has a continuing education requirement, with members completing 4 CEU hours per calendar year, which have similar requirements to those of the ASID.
Additional certifications for architects, landscape architects, and interior designers
After obtaining their architecture license, architects can be certified by the NCARB. This opens up further continuing education opportunities and also enables architects to work across state borders, or even to earn a license to work around the world.
There are other optional certifications that architects and designers can pursue, as well. Certification can accelerate career progress and open up new opportunities by expanding your skills and knowledge, or verifying your expertise in a particular area of your profession. Here are some of the most common certifications obtained by architects, landscape architects, and interior designers.
Occupational Safety and Health Administration (OSHA) Certificate program
The OSHA Safety and Health Fundamentals Certificate program trains professionals in workplace safety best practices to reduce accidents and injuries. To obtain certification, you need to complete 68 hours of courses covering subject matter such as:
Occupational safety and health standards for the construction industry
Hazardous materials
Cranes in construction
Principles of ergonomics
Excavation, trenching, and soil mechanics
Principles of scaffolding
Electrical standards
Job hazard analysis
Courses can be taken at OSHA Training Institute education centers and include demonstrations and hands-on learning as well as classroom instruction.
LEED AP Credential
Obtained through the U.S. Green Building Council, LEED AP certification demonstrates knowledge of sustainable building practices. This certificate can be obtained with a range of specialties, including:
Building Design + Construction (BD+C)
Operations + Maintenance (O+M)
Interior Design + Construction (ID+C)
Neighborhood Development (ND)
Homes
LEED AP certification is obtained by taking a multiple choice exam. Practice tests, study plans, and online courses to prepare for the test are available on the USGBC website. The USGBC also offers additional continuing education programs for professionals to maintain their certification.
Certified Passive House Designer & Consultant
This is another certification for those interested in energy efficiency and spaces that are environmentally sustainable. The International Passive House Association offers two certificates. Certified Passive House Designers are in the architecture and construction space, while Passive House Consultants tend to be more focused on interior design.
To get certified, you first need to pass a written exam. There are both free and paid online learning options to learn about passive house solutions, technology, and terminology. The Passive House Institute also offers additional, more in-depth courses in subjects like retrofitting, site supervision, and component assembly.
International Association of Accessibility Professionals (IAAP) Certifications
The IAAP is dedicated to advancing more inclusive public spaces, and offers certifications to recognize architects and designers with the skills and knowledge to design and build accessible environments.
The Certified Professional in Accessible Build Environments (CPABE) has three levels:
Associate (level 1) – for architects who are new to the profession or have only recently begun working with accessible design
Advanced (level 2) – for established professionals with 5-10 years of experience as an architect, engineer, urban planner, or similar career
Expert (level 3) – for professionals with 10+ years of experience and an established practice in accessible design
Once obtained, certification is valid for 3 years and must be maintained by taking 45 Continuing Accessibility Education Credits within that three-year span.
International WELL Building Institute certification
The WELL Accredited Professional (WELL AP) credential shows a designer's commitment to the physical and mental health of people who use their spaces. Students take a multiple-choice exam to obtain the certificate. Obtaining WELL credentials can be an excellent networking tool for interior designers, connecting you with the more than 21,000 registered professionals who have earned this accreditation.
National Association of Home Builders (NAHB) Designations
The NAHB is one of the largest professional organizations for the construction and design industry, with more than 140,000 members. They offer 13 designations for different professionals involved in residential construction, including:
Certified Aging-in-Place Specialist (CAPS)
Certified Graduate Builder (CGB)
Certified Green Professional (CGP)
Certified Graduate Remodeler (CGR)
Graduate Master Builder (GMB)
Graduate Master Remodeler (GMR)
Master Certified Green Professional
Each designation has both an exam and a continuing education requirement. The NAHB also offers both live and on-demand online courses and hosts the International Builders' Show, which includes educational programming.
Project Management Institute (PMI) Certifications
While not exclusive to architects and designers, those who work in a firm that undertakes large, complex projects can benefit from developing and verifying their skills in this area. There are several PMI certifications for professionals in various fields. Those of most interest to architects and designers include:
Construction Professional in Built Environment Projects (PMI-CP) – For construction professionals who work on large and complex projects.
Project Management Professional (PMP) – Validates a professional's capability to lead and direct teams and projects in any industry.
Certified Associate in Project Management (CAPM) – Demonstrates fundamental knowledge of effective project management.
Three years of professional experience are required to be eligible for PMI certifications, so this is an ongoing education opportunity best for mid-career professionals who are looking for a way to gain and demonstrate leadership skills.
Irrigation Association Landscape Certifications
The Irrigation Association (IA) offers a number of certification programs that may be of interest to landscape architects. Certification qualifies LAs for the EPA WaterSense program and gets them listed in the EPA's directory of irrigation professionals, which can be very beneficial for growing a career in this field.
The certification options for landscape professionals include:
Certified Irrigation Technician (CIT) – For entry-level technicians who install, maintain, or repair irrigation systems
Certified Landscape Irrigation Auditor (CLIA) – Certifying knowledge of gathering water use data and testing irrigation systems
Certified Golf Irrigation Auditors (CGIA) – Similar to the CLIA but specifically related to golf courses
Certified Irrigation Contractors (CIC) – For advanced professionals who oversee projects to install or repair irrigation systems
Certified Irrigation Designers (CID) – For professionals who design and set specifications for irrigation projects, both on golf courses and in residential and commercial settings
The Irrigation Association also offers online education resources, including webinars, classes, and self-study materials. In-person classes are offered during the annual Irrigation Show, where attendees can also learn about new irrigation products and technologies.
Benefits of continuing education
One benefit of continuing education was already mentioned above: it is necessary to maintain membership in professional organizations, or to keep your certification and licensing active. That alone is reason enough for many architects and designers to take a course, attend a presentation, or take advantage of other training and knowledge resources.
There are benefits to ongoing learning beyond this practical consideration too, however. Let's take a closer look at the value of continuing education and the main benefits designers and architects see from it.
It keeps you up-to-date with the industry.
The fields of architecture, landscape design, and interior design are technical as well as creative. It's important to stay current with both sides of this so you know what design elements your clients may ask for, as well as the latest innovations affecting the industry. Attending events like seminars, workshops, and conferences helps you keep up with the latest design techniques and current trends, as well as to learn about the latest technology and tools that can improve the quality and efficiency of your work.
It expands your professional network.
When you attend a lecture or participate in a workshop, you're in a room full of other professionals who are dedicated to their craft. This makes them an excellent way to find future collaborators, partners, and mentors, and to establish the kind of professional connections that can lead to future opportunities and career growth.
It can add new skills and specializations to your resume.
Being a well-rounded designer is an advantage whether you want to work for an established firm or start your own. Gaining expertise in a new area through continuing education lets you take on a wider range of projects or offer additional services to clients.
It's a chance to improve in your weak areas or fill in knowledge gaps.
One approach you can take to continuing education is to identify the areas where you struggle the most and target your learning to those subjects. This doesn't need to be limited to technical aspects of the job, either. Professional development in skills like leadership, communication, or marketing can be just as beneficial for growing your practice.
It's an opportunity to niche down and deepen your expertise.
On the other end of the spectrum, taking continuing education in the areas where you already have strengths can help establish you as an expert. This can help you tailor your career toward the types of projects you want to work on.
It makes you a better creative problem solver.
The things you learn in a class or seminar become new tools in your toolbox the next time you're working on a project. That means more options when you're designing projects to client specifications, and more possible solutions to draw from when you encounter a problem.
Choosing your continuing education
As you've seen in this article, there are a plethora of options for architects and designers who want to participate in ongoing learning. Choosing programs that match your skills, interests, and niche will help you to get the most out of them. It isn't just about taking the minimum amount of hours to meet your licensing requirements. Instead, target your learning to the subjects and skills that will provide the most value in your career and inform your designs in the future.