Tips for Job Seekers to Navigate the Architecture Job Market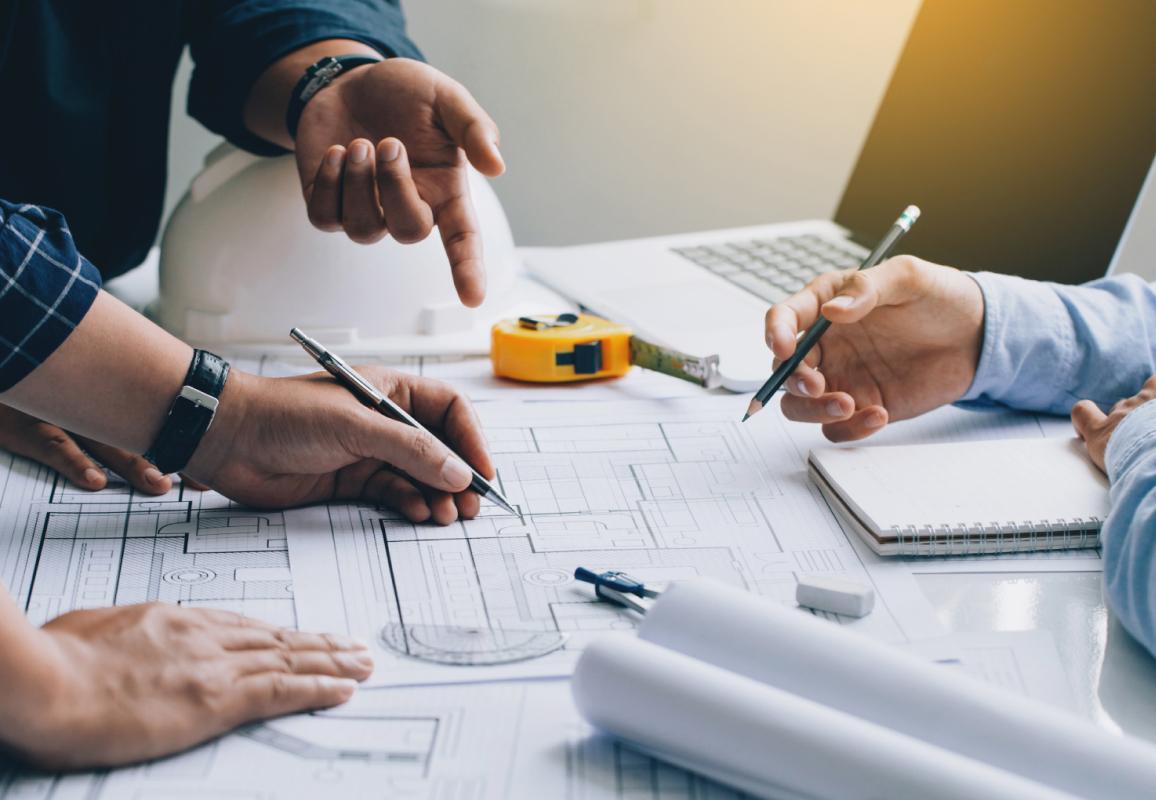 Architecture can be a very competitive field. The high average salary of architecture jobs, combined with the creative nature of the industry, make it an appealing career for individuals who are artistic and passionate about design. At the same time, demand for architects has remained relatively static, and the Bureau of Labor Statistics predicts slower than average growth of around 3% for the industry through 2031.
There are still opportunities in architecture for new professionals who have the skills and drive to design eye-catching and innovative structures. Whether you're a recent graduate embarking on your first job search or an experienced professional looking for a new opportunity, here is some advice to help you connect with employers and find your next dream role as an architect.
Preparing for an architecture job search
As with any career path where you'll face stiff competition from other candidates, being fully prepared before starting your search will increase your chances of success. For architecture, this means having the right combination of skills and experience, then knowing how to showcase this effectively in your application. Let's take a closer look at the steps you should take in advance of an architecture job search.
Architecture education and licensing requirements
The first step to starting an architecture career is to obtain a degree. Most states require architects to complete a program approved by the National Architecture Accrediting Board (NAAB) in order to obtain a license.
A Bachelor of Architecture (B.Arch) is the first step in that education process. These programs typically last for 5 years and teach students core principles like structural design, construction principles, and the use of drafting tools and software. Some programs include an internship or paid professional experience as part of the degree, which can be beneficial for students, giving them a head start on building experiences for their resume.
Many architects also pursue an advanced degree to further their careers. Typically, this is a Master of Architecture (M.Arch) program, which can take anywhere from 1-5 years to complete depending on the college and the student's past architecture education. While a master's degree degree isn't a requirement for most architecture jobs, it can give you an edge over other candidates and accelerate your career progress.
Every U.S. state also requires architects to be licensed before taking on professional work. The licensing requirements vary state by state, but generally require applicants to pass a licensing exam in addition to meeting the state's qualifications for education and experience.
Professional experience for new architects
Many university architecture programs give students the opportunity to gain hands-on experience before graduation in the form of an architecture internship. You don't need to be enrolled in a university program to be an intern, though some companies will look for interns who hold at least a bachelor's degree.
Internships are the easiest way to get that crucial first professional experience on your resume that will open up employment opportunities. Most people complete an internship before applying for their architecture license. Typically, an internship lasts for 3 years, though this may not all be with the same firm. As an intern, you assist in all areas of architectural work to gain a deeper understanding of the role. This can include creating 3D models and drafting, preparing presentations, researching zoning laws and regulations, or maintaining documents and files related to projects, just to name a few common responsibilities.
Writing an effective resume and cover letter
The resume and cover letter are a candidate's first chance to make an impression on an employer. Crafting them carefully is the best way to take full advantage of this opportunity. The same tips for writing an effective resume that apply to other industries are good advice for architects, as well.
The strongest resumes are those that quickly showcase a candidate's strengths and expertise, and you want to make sure you demonstrate your value in every section of your resume. In your "Experience" section, for example, don't just list the work you did in past positions, but highlight your most significant workplace achievements and the aspects of that position that are most relevant to the job you're applying for.
In addition to highlighting your value, make sure to carefully read the job posting and tailor your resume and cover letter to match it. Use the same action verbs and keywords that appear in the posting when describing your education, skills, and experience.
As an early-career architect, your resume should be exactly one full page long. A two-page resume can be acceptable for more senior professionals. In many cases, though, if you have more than a page worth of material for your resume, it will serve you better to condense this down to only the most relevant accomplishments, skills, and experience that will fit on a single page.
Where the resume is your chance to showcase your value as a candidate, the cover letter is where you get to introduce yourself and show a bit of your personality. Use it to convey your passion for the profession and explain why you would be a great fit for this particular firm. While you should save the bulk of your experience and skills for the resume, it is smart to include a sentence or two highlighting why you're uniquely qualified for the specific role and company that you're applying for.
Preparing an architecture portfolio
Where the resume and cover letter let you talk about why you're qualified for the job, your architecture portfolio is your chance to show it. This makes the portfolio a powerful tool for landing your dream job, but also makes it a major source of stress for architects during the job search process.
It may help relieve some of that stress to remember that the goal of a portfolio is not to meet some external ideal of perfection, but rather to demonstrate your design proficiency and convey a sense of your identity as an architect. This means you likely don't want to include every project you've ever done. Instead, the portfolio should focus on the projects that best exemplify your ability, creativity, and professional identity. Aim to include a variety of work, including different types and styles of project that show your range as a designer.
There are two types of portfolios you should prepare for a job search: the sample and the full portfolio. The sample portfolio is submitted along with your cover letter and resume when you apply for job openings. The ideal length for a sample portfolio is 8-10 pages and it should include work that best compliments the skills and experience you mention in your resume.
The full portfolio is the one to bring with you to a job interview. What you should include in this full portfolio will depend on where you are in your career. Current students or recent graduates should include academic work that shows their understanding of core architecture principles.
Early-career architects should include live projects at various stages as well as technical drawings, 3D models, and photographs of any completed projects that you were involved in. It can also be valuable to include the strongest of your university work. This will show your evolution as an architect along with your knowledge and design skills.
Once you've accrued 3-5 years of professional experience, your portfolio should demonstrate that you're a well-rounded designer with completed projects and on-site experience. As you accumulate more completed projects, update your portfolio to focus on your most recent work. A good rule of thumb is to omit work that's older than 6 years unless it's highly relevant for the role you're applying for.
Resources for finding architecture opportunities
As is the case in many industries, your professional network is a powerful tool when you're looking for a new job as an architect. For recent graduates, this will include your former professors and classmates, as well as the people you met during your internship.
There are also ways to build and reinforce your professional network online. If you don't have a LinkedIn profile yet, you should absolutely set one up. This isn't just a way to strengthen the connections you've made in real life, but can also be a chance to expand your network with new contacts through the platform.
Networking is a reliable way to find architecture job openings, but it's not the only option. Here are a couple of other strategies and tools you can use to find architecture roles.
Top architecture job boards
While you may find architecture jobs listed on all-purpose employment websites like Indeed or Glassdoor, this isn't always the most efficient way to search for open roles, and you may need to filter your search a lot to screen out irrelevant postings. A more targeted platform, focused specifically on the architecture industry, will often be a more productive way to find potential job opportunities. Here are the most popular websites to find architecture jobs in 2023:
Professional organizations for architects
Joining a professional organization can have a lot of benefits for architects at every stage of their career. These groups often host workshops, conferences, and other industry events where you can meet other professionals and gain new insights into the field. Many also have their own internal job marketplaces or forums for firms and recruiters to connect with potential candidates.
One of the oldest and most prominent architecture organizations is the American Institute of Architects (AIA) whose job board was on the list above. They also host an annual conference and smaller events like regional conferences, panel discussions, and educational workshops and trainings. Their online communities and continuing education resources are also a helpful tool for early-career architects to gain knowledge and get established in the field.
Some other professional organizations for architects include:
Advancing your architecture career
Getting started in the competitive architecture industry can be a challenge, but there are opportunities out there for architects both new and established. Take advantage of the job listings, professional organizations, and other tips in this article to land an opportunity that will further your career goals.