Resources to Create an Impressive Online Portfolio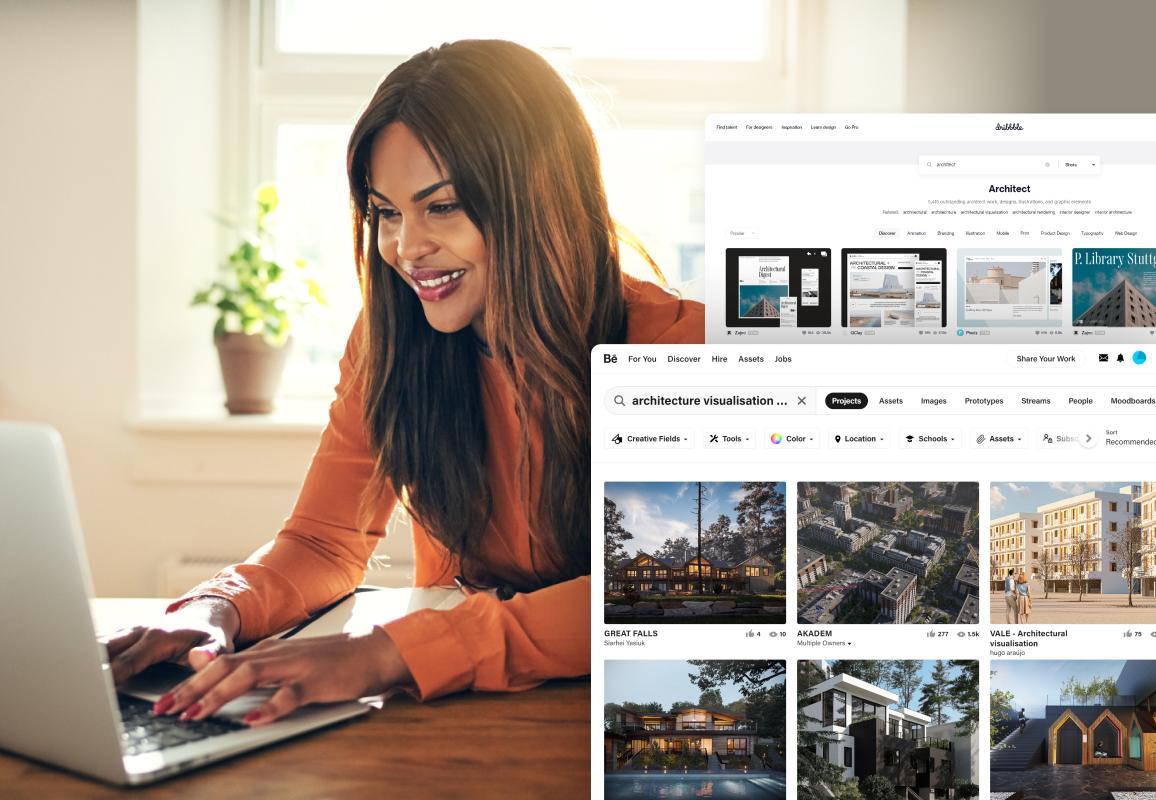 Design and architecture professionals know they need to bring a portfolio of past work to impress employers when they head to an interview. In today's world, though, having an online portfolio is just as important, helping you to access those opportunities, develop your personal brand, and grow your career in the industry.
The good news is, setting up an online portfolio doesn't have to be challenging or expensive. In this article, you'll find some affordable platforms to create a digital portfolio, along with some tips to make sure it stands out and fully showcases your skills, creativity, and professional achievements.
Benefits of an online design or architecture portfolio
A digital portfolio gives employers a chance to see your work before you are hired. This puts you at an advantage over other job applicants who may have education and experience, but no representation of the style and quality of their work.
An online portfolio shows off more than just a designer's or architect's past work and designs. It's also a chance to showcase the other skills you'll need for the job, skills like organization, communication, and your ability to use basic tech tools. Visitors to your site can also see your entire story in the format that you choose, with fewer limits on its length or content than in a CV or resume.
Portfolio websites aren't just useful when you're actively searching for a new job. They also help to promote your personal brand by expanding your online presence. People who stop by your portfolio page might send along new opportunities or projects if it catches their attention. That could mean other creators and designers looking for collaboration or architecture firms looking to expand their team. This ongoing work a design or architecture portfolio website does for your career is the main reason all professionals should have an online portfolio.
Best platforms to build an online portfolio
CarbonMade
Price: $9-$22 per month
CarbonMade is an easy to use portfolio site that requires little HTML background knowledge. One thing we love about CarbonMade is that creators can add text explanations to any photographs or drawings that appear in their portfolio. CarbonMade also allows employers to browse through the site's "talent pool" of over 850,000 portfolios. The beginner plan is $9 a month and allows up to 8 projects with unlimited images and videos, so it's an affordable way to design professional portfolios.
Behance
Price: Free
The world's largest platform for showcasing creative works, Behance is owned and operated by Adobe. That means you can sign up with just your Adobe ID if you have Creative Cloud. Adobe Creative Cloud users can directly post their work to Behance, so it's very easy to use. Behance isn't just a basic portfolio site, either. It's also a social network of creators, and the Behance network can directly connect you with potential employers and other creatives in your industry.
Coroflot
Price: Free
Coroflot is another platform that's more than just a portfolio website. It's also a job board for design talent with its own social network. This allows you to follow potential employers or other creatives, and you can post updates or send messages right through the platform.
Adobe Portfolio
Price: Free (with Creative Cloud membership)
For those who already use tools like Photoshop and Illustrator in the Creative Cloud, Adobe Portfolio is a free and easy way to showcase your work online. You can create either a simple single-page site or a multi-page portfolio using one of their 18 themes, which are optimized automatically for viewing on a variety of devices. This lets you create a visually appealing and responsive site easily without needing to know any code. The built-in integration with Behance and Lightroom is another plus, letting you quickly import photos or projects to add to your portfolio.
Cargo
Price: $14-$19 per month (free for students or nonprofits)
Cargo is a professional website building platform made with artists and designers in mind. The wide variety of flexible templates allow users to fully-customize every aspect of their site, making it simple to not just showcase your work but to make it look its best. While you don't need to know HTML, CSS, or Javascript, Cargo does allow you to use code in combination with the templates so you can create a site you love with your tools of choice. It's also easy to embed links to your social media channels or add metadata to make your portfolio easier to find through search engines.
Squarespace
Price: $16-$49 per month
Squarespace is a go-to platform for creating professional websites and online stores for businesses, and it can be just as effective as a tool to design online portfolios. Their portfolio templates can be fully customized to fit your projects and brand, with a variety of layouts that are both unique to make your portfolio stand out and intuitive for visitors to navigate. It also includes tools to schedule appointments, sell products or services, and connect with an audience through email or social media, making it a perfect all-in-one platform for designers to grow their career.
Issuu
Price: Free
Issuu is a publishing platform that lets users create embeddable ebooks, catalogs, and magazines. Their portfolio maker works a bit differently than other sites. Instead of designing it on the page, you can upload a PDF or other document to have it automatically converted into a professional-looking portfolio. You can also add links, videos, and other elements after uploading to make your portfolio more engaging and interactive, or use the Visual Stories feature to create graphic stories for social media channels like Snapchat and Instagram. The free account allows you to publish up to 5 documents of 50 pages or fewer each, which will be sufficient for the majority of portfolios.
Dribbble
Price: Free
Dribble is another platform that's a digital portfolio, social networking, and job search platform all in one. It's among the largest sites for designers to share their work, giving it a vibrant community for users to interact with. Dribble's website layout takes the style of a Pinterest board. Like Pinterest, you can use Dribbble as an inspiration resource by viewing small thumbnails of designers' work. Along with finished projects, you can share current projects on the site. Each user can upload 24 pictures a month, so it's easy to keep your online presence current with your latest projects.
FolioHD
Price: $6-$9 per month
If you want a portfolio platform that's straightforward, fast, and easy to use, FolioHD is a great choice. The Basic plan will be enough for most, giving users 200 uploads in 10 galleries and a host of other features. Upgrading to the Power plan increases that to 3,000 uploads and unlimited galleries, plus the option to make custom pages and sell prints right through the site.
Format
Price: $5-$13 per month
Format was rated by creatives as the best portfolio site on the web, and is a platform that industry experts trust with their online profiles. Users get access to a selection of professional, pre-made templates to create a compelling, artistic platform for your work without any coding or HTML needed. There is also an integrated eCommerce option to sell and ship prints directly to customers. The Basic plan gives you 15 pages and up to 100 images, while the Pro and Pro Plus plans allow more images and add features like image storage, video hosting, and a custom domain.
What to include in online portfolios
An online portfolio is an architect's or designer's chance to show off their best work, and that's the main thing it should feature. You want to include multiple projects to show your versatility. Go through your past projects and choose the 8-10 that best showcase your skills and design prowess. Design and architecture are often collaborative disciplines, so if you can include projects you worked with on others in addition to independent work you're proud of.
Variety is also helpful when it comes to how you show those projects. Photographs of finished projects are great, but employers will also want to see your vision throughout the project. You can show this by including 3D renderings or models, sketches, and construction detailing alongside the finished work.
Finally, while strong work in many ways speaks for itself, you also want to tell visitors to your site a bit about who you are and what you do. Include a page that outlines your background as a professional, including your education, past experience, and any interests that may be relevant from either your professional or personal life. Other things you should include are any awards or other accolades you've won and any professional organizations that you're a member of. You also want to make it easy for anyone who sees your site to get in touch with you. Include contact information like your email address and social media handles. If there are other aspects to your online presence, like a blog or YouTube channel, include links to those, as well.
Design tips for digital design and architecture portfolios
Visual composition can make or break your portfolio. How you present your work within the portfolio shows your skills in areas like layout, use of space, and graphic design. Even portfolios with amazing projects can be overlooked if the way that work is presented doesn't appeal to its audience.
With that in mind, here is some advice to follow when you're designing a portfolio website.
Make smart use of white space
Very cluttered pages can hide content. The images need to breathe. A more open layout allows viewers to fully appreciate the images without being distracted. Also avoid overloading your portfolio with lots of text. Stick to the key details that the viewer needs to know and give the work space to speak for itself.
Show your audience your personality, too
The main goal of a portfolio is to represent you as an architect or design professional, but employers consider more than just technical skill when they're deciding who to hire. Design and architecture are also multidisciplinary fields, so it can help to show your skills and knowledge in areas that transcend the technical aspects of design, along with more of who you are as an individual. If you have other creative skills like photography, drawing, or writing, take advantage of those in building your portfolio to showcase more of your personality and interests.
Optimize your portfolio for search engines
The more easily people can find your online portfolio, the more valuable it will be for growing your career. While the images are the main thing most designers and architects want to showcase, from a search engine standpoint it's all about the text. Ensure there's text written right on the pages rather than flattened into images, with keywords related to your industry sprinkled in to catch search engine attention. You can also help your site get noticed by filling in its meta data, with a clear title and meta description of what you do and what visitors will find on your site.
Use your work to tell a story
Providing a narrative that connects your projects can help visitors to your site get a better sense for who you are and what you're passionate about as a creator. When writing text to accompany your images, don't just describe what's in them but share what that project meant for you and your career. You want people to get a sense for your design philosophy and evolution as a professional from a tour of your site, along with an appreciation of your design skills and technical ability.
Making your portfolio make an impact
Creative professionals are always learning and growing, and your online portfolio should reflect that, too. Once you've created your digital portfolio, don't wipe your hands and call the work done. Stop in to update it with new projects as you complete them so the site reflects your current work and competencies. If you use a site with a social component, engage with other professionals on the platform to grow your network and forge connections that can lead to future opportunities. With a bit of practice and effort, anyone can create an eye-catching digital portfolio.